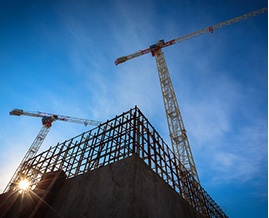 The ECBM Construction Insurance Team delivers expert solutions for all construction insurance needs. ECBM has extensive knowledge in the insurance requirements of the crane and rigging industry, and we have positioned ourselves as a "Preferred Broker" for the Specialized Carriers and Rigging Association. Our experts have been serving the industry for over 30 years.
Construction is a broad spectrum of business operations. At ECBM, we understand that the broad spectrum calls for diverse insurance needs. The insurance needs of an electrical contractor will be vastly different from those of a scaffolding company in a metropolitan area. We're prepared to find the absolute best policy for your business.
We know that every extra cent saved provides your business with a competitive advantage. Our construction insurance team is tenacious in negotiating insurance premiums and coverage terms with providers. Our Proprietary Risk Analysis System allows us to present your company's unique needs to insurance underwriters to create the best possible plan for your needs.
Get Guidance You Can Trust
Meet with our team to review your coverage, get insight into potential gaps and exposures, and uncover opportunities for savings.